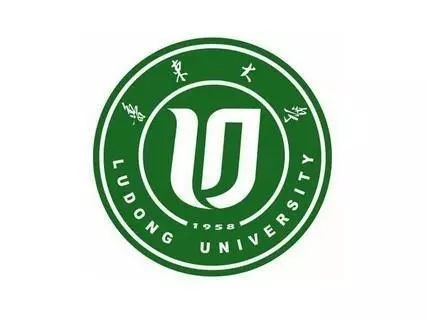 Ludong University Admission for International Students (2021 Spring Term)
Ludong University (LDU), a provincial university founded in 1930, is located in Yantai, one of China's "Most Glamourous Cities". The university has been strong in humanities, science and engineering, with various disciplines developing coordinately.
LDU has over 30,000 students in 22 schools, which offer 85 majors for bachelor programs, 33 majors for master programs, and 1 doctoral program. There are 13 provincial key discipline programs of Shandong Province, namely English Language and Literature, Vehicle Operation Engineering, Linguistics and Applied Linguistics, Physical Geography, Higher Education, Operational Research and Cybernetics, Regional Economics, Port, Coastal and Offshore Engineering, Applied Statistics, and etc.
International exchange is very frequent. LDU has been engaged in extensive and substantial international exchange and cooperation with nearly 100 universities and institutions of over 20 countries such Republic of Korea, Japan, the United States, Russia, Australia, Canada, and France.
It has started to offer International Student Program since 1989, with an total enrolment of 14,000 international students from over 60 countries of five continents until now. All international students are eligible to apply for Chinese Government Scholarship, Chinese Language Teachers Scholarship, Shandong Provincial Government Scholarship for International Students. In 2019, LDU became one of the first 22 universities in China which passed the official quality certification of international student education and management, and also the only one passing this certification in Shandong Province.
What LDU Offers to International Students

For language training, School of International Education offers Chinese courses.

For academic degree, application for spring term is only open to associate bachelor degree and undergraduate degree in Chinese Language at School of International Education.
Admission Requirement

1. Non-Chinese nationality

Chinese citizens who apply for degree program after immigration must hold valid foreign passport or nationality proof document for at least four years, and has a record of actual overseas residence for over two years (Actual overseas residence for nine months in a year can be calculated on a one-year basis, according to the entry or exit stamp) in recent four years (dated to April 30, 2020);

2. Mentally and physically healthy, with good characters and academic performance, with positive attitude towards China and Chinese;

3. Aged not below 16 years old.

Timeline

1. Application period: Oct 30, 2020-Dec 10, 2020

2. registration: from Feb 24 to Feb 26, 2021

3. Airport pick-up service: Feb 25 and Feb 26, 2021
4. Spring Term begins on Mar 1, 2021
5. Spring Term Duration: from Mar 1, 2021 to Jun 30, 2021
6. Orientation: Mar 16, 2021

Note: The specific date may be adjusted according to the specific circumstances.
APPLICATION MATERIALS
APPLICATI ON TYPES
APPLICATION MATERIALS
Chinese Language tra inees/exch ange students
1. Application form
2. Copy of passport photo page (Passport should be valid for over half a year longer than study period)
3. Copy of final graduation certificate
4. Copy of final transcript
5. Final employment certification (for applicants with working experience only)
6. Physical check results of foreigners (within 6 months)
7. Financial sponsorship form and identification document of financial sponsor
8. Letter of Guardian and identification document of guardian
9. photo (white background, 3*4 cm)
Academic degree programs
1. The above materials required for applying for language training programs

2. Bank statement (balance over RMB 30,000)

3.1 Undergraduate and associate bachelor

degree program applicants


3.2 Applicants joining midway in undergraduate programs

① Senior high school graduation certificate or a certification of

future graduation (notarized documents)

① College Diploma (notarized documents)
② High school transcript (notarized documents)
② Transcript for College Education (notarized documents)
③ HSK4 Certificate
③ HSK5 Certificate
④ HSKK Intermediate Certificate (or, passing the language test after enrolment)
④ HSKK Intermediate Certificate (or, passing the language test after enrolment)
Notes

Please upload online the scanned copies of application material, and include official Chinese versions of non-Chinese documents. Applicants should be responsible for the truthfulness of all application materials.




Incomplete application materials will not be accepted. Applicants will be requested to submit supplementary materials when necessary.




Applicants under 18 years old need to provide identification document of custodian and custodianship form.



Admission Procedure: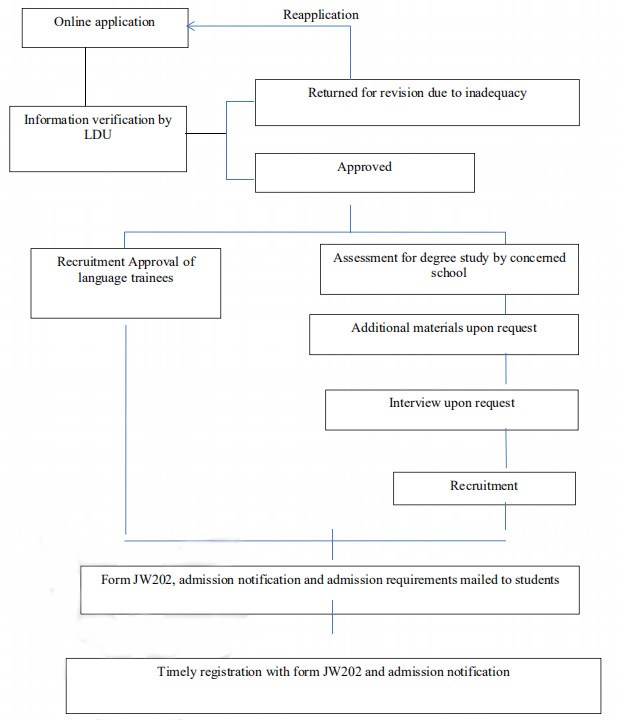 Tuition Fee and other charges (in RMB)
FEES & CHARGES
AMOUNT
Notes
Application
400 yuan
Upon registration
Tuition

Language training: 6,000 yuan/ term

Associate bachelor program : 14,000 yuan/term

Bachelor programs: Arts&history: 14,000 yuan/ year

Please make the payment according to the notice of admission. Academic degree students shall pay the tuition by the academic year.
Textbook
200-300 yuan/term
Upon school opening
Insurance
400 yuan/ 6 months; 800 yuan/ year
Required to be purchased by all international students
Physical examination
430 yuan
Collected by hospital
Visa
400 yuan
Collected by the Exit and Entry Administration Department of China
Accommodation
Room rates

Standard twin rooms:

International Students Apartment No. 1: RMB ¥ 35 /person/day

International Students Apartment No. 2: RMB ¥ 40 /person/day

Room facilities

Single bed; bookcase; wardrobe; TV; private bathroom; free WIFI;

fridge (rentable if needed).

Public facilities
Laundry room; hot water room
Note: International students are required to live in school accommodation in the first semester in principle. Please report to the school if there is any exceptional circumstance.
Contact Information:
Telephone: +86-535-6262697
E-mail:boxinshandong@126.com
Web: www.hifcoc.com